Magical Fairy Garden Ideas
Magical Fairy Garden Ideas
How Do You Create A Fairy Garden Design?
This being said, here are easy steps to creating a miniature fairy garden design:
Decide on the container that you'll use.
Sketch out the layout of your garden with a stick, or draw it out on a piece of paper.
Pick a tiny tree as a focus point for your garden. You can also use woody herbs like sage, rosemary, or lavender.
Add the tiny accessories, and there you have it!
2. Indoor Fairy Garden Container: Use the space around Bonsai
Do you have a bonsai tree? or perhaps, have always wanted to have one? Turn such fascination into a delightful visual by creating a fairy garden with a bonsai tree as a focal point.
Instead of wasting free low-ground space, turn it into a mini-fairy garden complete with handcrafted figurines, footpaths, a swing, a cottage house and maybe a few farm animals!
You may also want to get a Indoorbonsaiexotics Dwarf Pomegranate Beginner Bonsai Tree for a starter or check out other bonsai tree varieties here and this tutorial to start creating one on your own.
Beach People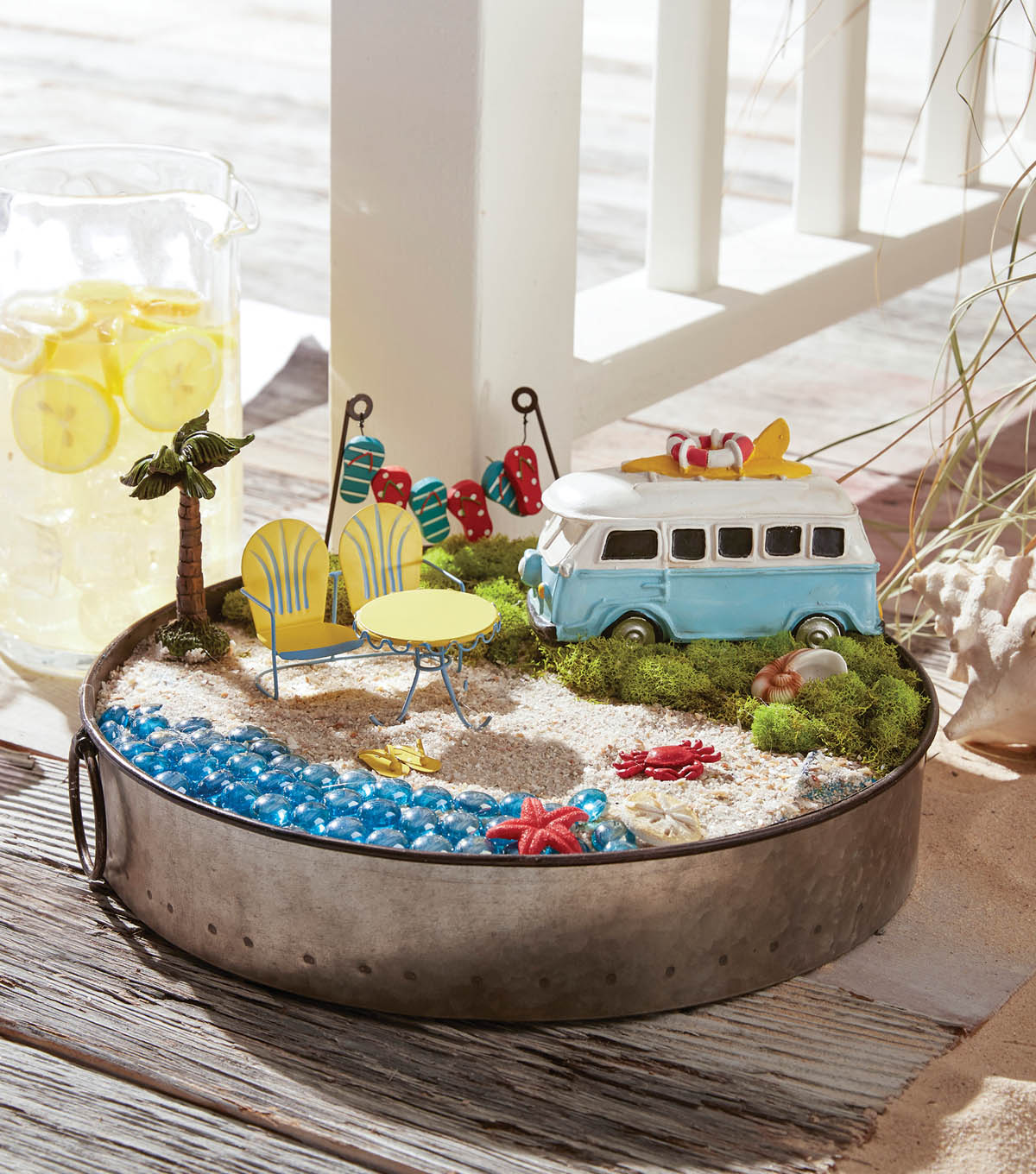 Source: joann.comYou couldn't get it much more easier than this–or more laid back and casual. A variation on our number 6 in fairy garden ideas, this one is even easier to put together as you simply gather a metal rim container from some device or metal wash pan, plant a tiny palm tree and string out the beach lights across a piece of thread or dental floss. An old, toy van or yellow school bus adds the finishing touches as you get your porch ready for an all day fun-packed trip to the beach. Put in tiny, shimmering, turquoise marbles, and you have a beautiful ocean front design for your fairy garden presentation.
Your International Fairy Garden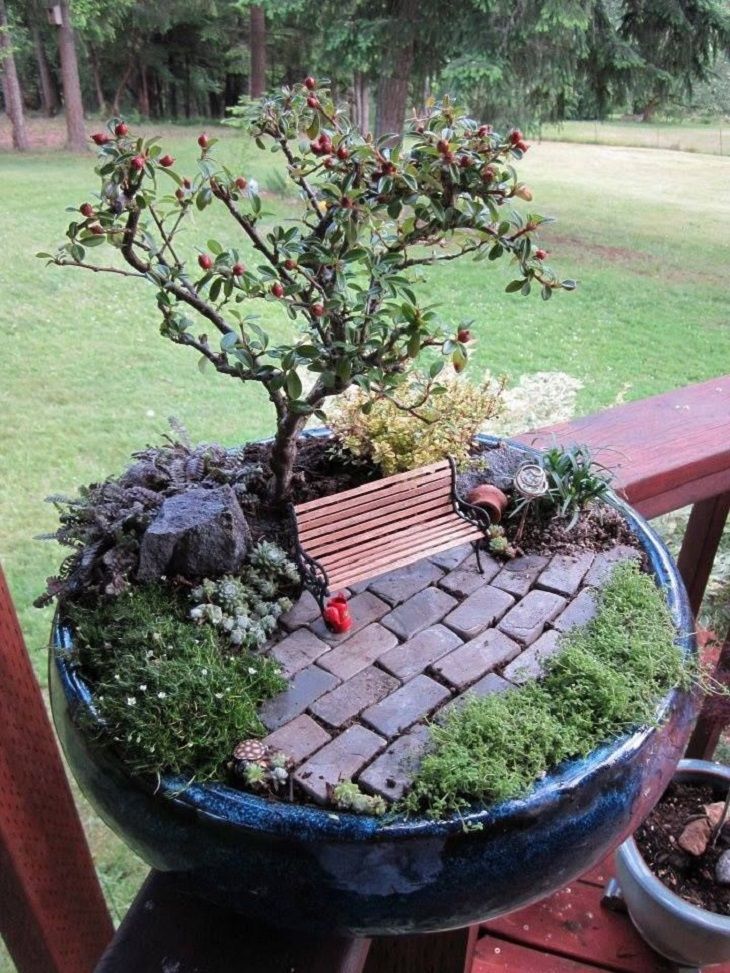 Source: knitttingcrochet.comWith an obvious touch of Bonsai and another touch of something Mediterranean in mind, your home design won't suffer from any identity crisis. This miniature fantasy garden concept goes well in almost any place you display it. With a tiny flair of a Japanese garden setting, a blossoming fruit tree and Spanish clay pots alongside a wooden park bench, you can see how this creative design touches all of the bases regardless of your home style and design. For a more dramatic flair, paint the container base with contrasting colors to the surroundings you'll be placing the display in.
Miniature garden with gnome door
This can be an enjoyable DIY project for your children. You can use a tree stump to create this miniature garden.
Miniature garden with a little house

Create a truly unique fairy garden like this for your garden. Inspire yourself with this idea.
Indoor Fairy Garden Container: Discarded Bird Cage

Personally,  I don't have any birdcages at home, I think birds are meant to be forever free But if you have one, don't throw away the old birdcage yet. Convert it into a beautiful miniature fairy garden with mosses, tiny chairs, a cute fence, few rocks, an air plant and some mini flower plants. The fairy garden idea in the image is beautiful but I would say let your imagination flow.